How to
Really

Attract New patients?

We will do the analysis for you and tell you which strategies are BS or just another sales pitch and which will actually work for your practice. Here are the top five articles on how to attract new patients as of 09-05-2022: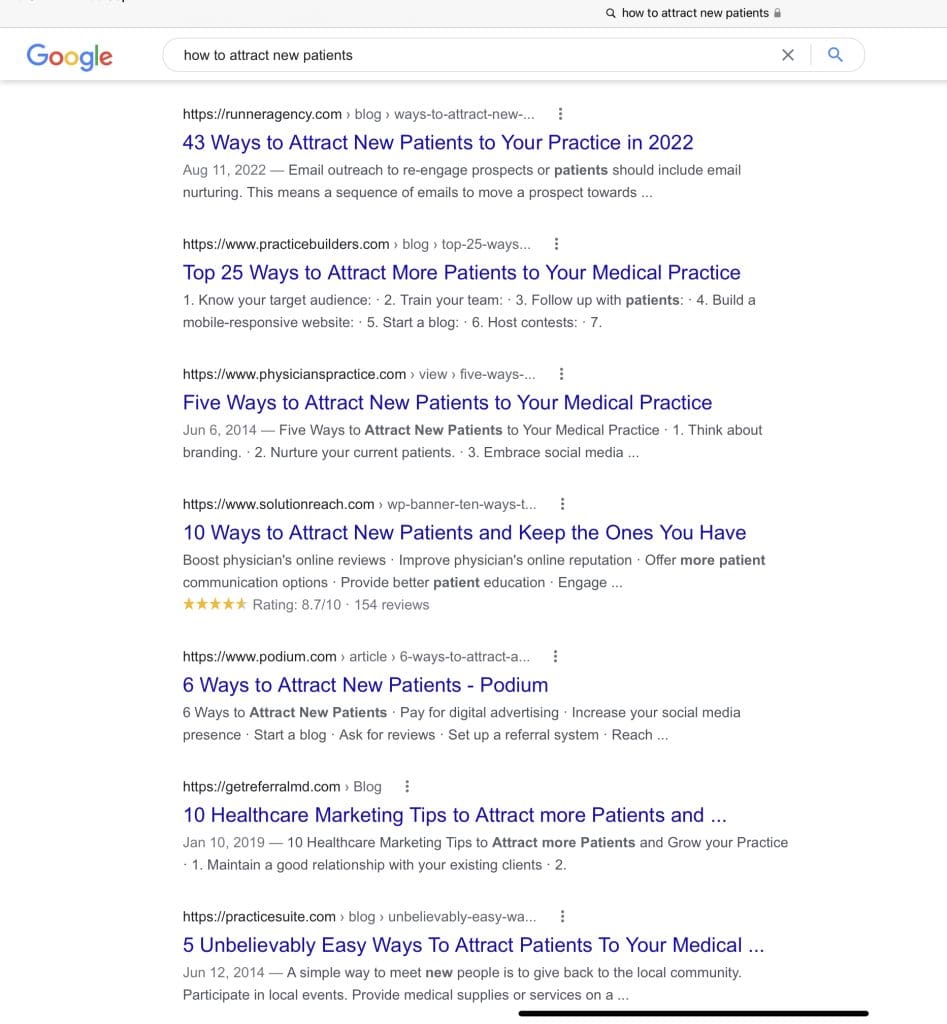 Article 1: 5 Ways to attract new patients- paubox agency
So my initial reaction to this article is that because it's from an agency, I immediately am suspect about what they will say. Let's see if my suspicion is accurate or if they really are trying to help your practice.
1. Establish an active online presence
This is always a great place to start for any practice. It almost goes without saying that you need to have a website. One thing that I like with this mention is that Paubox references the option to use one of the many free website builders out there. They also mention utilizing Social Media which is also free, just be careful what you share. Here is an article which covers some of the liability associated with social media.
In addition to the website, this article mentions submitting to online directories such as Vitals, this is in most cases is completely free. The largest directory that every practice should be on is Google Business and they didn't mention this. Here are instructions on how to add your practice to Google Business
2. Start a blog
Blogs are free and more generally having a blog just means posting articles and updates on your website and on social media. Most website builders have blogs built into them, so then it just comes down to you writing content for it. This is where most practices fail, blogs are free but they require a lot of time to manage. Great idea but difficult to maintain.
3. Ask for referrals and reviews
Yes, this is free and is one of the ideas we like the most. It's so easy yet so under utilized by businesses. Most medical providers(except chiropractors) feel uneasy or just don't take the time to spend 1 minute telling the patient how much it would mean for them to recommend your practice online or in person when speaking with family and friends.
Obviously, a cardiologist or bariatric surgeon isn't going to be for everyone but mentioning that it matters to you will go a long way to inspire your current patients to send you new patients. This is completely free and only takes a few minutes of your patient's time to leave a review.
Making it easy is key. We recommend having an iPad available at checkout to allow the patients satisfied with their visit to leave a quick review on Google or Facebook. You want to ensure your patient is happy before offering the tablet but this should be a part of every practice.
4. Attract more patients to your practice by nurturing strong relationships with your current patients
This won't really generate new patients directly but will create loyalty which will in-turn convert your patients into fans. Fans will inevitably promote your practice. In essence, this point is just about practicing good customer service. Create systems that allow you to follow up with your patients without much manual effort. Ensure your patient communication process is well-defined and executed by your staff.
Improve Call Efficiency

Send Out Automated Regular Updates & Reminders

Integrate Patient Portal on Website(most EHRs have this now)

Consider adding chat function to your website for larger practices
5.Upgrade to Modern Technology
This is where the article gets into selling their service. I appreciate that they waited to the end before offering the soft sales pitch. Modern technology can mean a lot of different things depending on who you talk to. This section of the article mentions having Netflix in the waiting area, electronic check-in, massage chairs, HIPAA compliant email (what they sell) and Virtual Visits.
Of these recommendations, the only opportunity to actually generate new patients for your practice would be offering virtual visits. The other items really are about customer service and taking care of your existing patient base. Having some form of entertainment in the waiting room is helpful but rather than entertaining or comforting your patients (massage chair), focus on reducing your wait times. Here are some tips to decrease your wait times to less than 10 minutes.
I do agree that offering the ability to email or electronically communicate with your patients is a great way to improve customer service. Most the EHRs out there will have a patient portal which should have a way for you to communicate with your patients.
Article 1: 5 Ways to attract new patients- paubox agency

Our Review
My honest opinion is that this was written by someone that hasn't actually worked in a medical practice. They took some common talking points but the depth of knowledge regarding the ideas is really lacking.
Article 2: 43 Ways to Attract New Patients To Your Practice in 2022- Runner Agency
I am already exhausted just reading the title, I mean 43, why not 182.  We'll see what value this has for you but my first impression is that this will be a lot of nonsense.  It's another agency so my expectation is that there will be a lot of pitches, I just hope it's not 43.
Here is an outline of the article topics:
(1-11)  Invest in Advertising
It's no surprise that an advertising agency has this as the first option but let's see if there is any gold.  We typically recommend you allocate 2-4% of your gross revenue and use it for advertising.  The most effective form of advertising in today's digital age is online, whether through social media, Google/Youtube or Microsoft.
This section of the article offers some effective strategies as it relates to advertising on Google, Facebook, Instagram, Youtube and Bing.   The key to success with your advertising dollars is to create campaigns and strategies that will leverage your funds for the highest conversion rate.  Therefore, the Runner Agency offered these 11 strategies as they know most will be beyond your expertise and you'll reach out to them to manage the campaign.  We do not have any experience with Runner Agency but based on this article, it does appear that they know what they know how to spend your money if that's what you need.
Here are the ideas published: target with Google PPC ads, expand Google PPC ads to Bing, Target site visitors who don't convert with remarketing, target engagers with remarketing, get new patients with Facebook advertising, advertise on YouTube, use content to attract patients through native advertising, advanced patient targeting with programmatic advertising, use lookalike targeting, expand Facebook ads to Instagram, buy google search terms on YouTube.
As you can see, all of these are opportunities to attract new patients with $$$.  That's not what I'm interested in for this article so we are not going to analyze these opportunities and give the whole section a score of 3.
---
(12-17) Publish Content
This is where a couple of the ideas could actually yield results without adding to your budget.  Items covered are: blogs, updating old blog posts, posting updates to Google My Business, creating downloadable content to capture leads, publish regular video content, add videos to your site. 
Blog, Updating Old Blog Posts & Publishing Video Content- 5
By now, you already know about having a blog but Runner Agency takes it a step further and recommends having video content.  I don't disagree with this recommendation but this is something that can be difficult to implement.  Most providers are too anal to record something without being edited for perfection so this is something that will obviously cost money.  In addition, you will need a website team that can integrate these videos on your website.  However, at the end of the day, if you can take the time and spend the money on videos, you will see a return on your investment.  It just might be significant.
Google My Business- 8
The main one in this section that I want to highlight is the "posting updates to Google My Business".  In addition to adding general content about your practice, you can also use it to update the public about recent events, promotions, add blog posts, add pictures of your staff/office and even allow potential patients to message you(be careful with this one).  Google My Business has the same information that will be listed in Google Maps so you want this to be accurate and up to date which includes setting the correct hours of operation including any holiday closures. Watch this short video tutorial from Google.
Creating Downloadable Content- 2
This isn't really something that most medical practices can implement unless Runner is referring to patient forms.  The exception would be if you are doing a particular procedure and want to publish a report comparing the procedure you offer vs others available.  I'm thinking of things like stem cell therapy or robotic surgery vs open.
---
(18-25) Optimize Your Website
This is yet again a lot of information that will be difficult for most practices to implement without hiring a web firm. In most cases, this would be money well spent unless you or someone in your office is very techy.
Ideas mentioned are: adding educational videos, showcasing your providers, rethink your CTA(call to action), adding a chatbot to your site, add pop ups, offer form submissions/not just calls, make your phone number prominent, add high quality patient testimonials.
Chatbot- 3
Chatbots are good but only if you have the staff to manage the interaction.
Popups for exit intent- 4
This can helpful but is also annoying if done incorrectly. Again, the idea isn't bad but requires you to hire someone and potentially purchase software.
Offer Form Submission instead of only phone- 6
Every website should have form submissions which go to multiple people in your practice for redundancy. Be careful about what information your patient can submit on a form as they can be hacked. If the submissions are going to your email, be sure your email carrier is HIPAA compliant and passwords are secured. Staff can be careless with this information which is why you really want to limit what information is sent over or have the actual submissions hosted by a third party(security is their responsibility). Your staff would then only receive a notification that someone submitted your form and they would need to login to view. We use these forms Formstack & Cognito Forms for our medical websites due to their security and HIPAA compliance.
Phone Number Prominent- 6
Yes, this is obvious. You also want to have it where the patients can click to call. Most of your visitors are on their phones so you want to make it very easy for them.
Adding Testimonials- 7
This is another idea that helps increase conversions just like having a prominent phone number or using online forms. Testimonials on your website are great, just be careful and ensure that your medical society allows this. You also want to protect your patients information when publishing a review to ensure HIPAA compliance.
Rethinking your CTA- 4
I like the idea about rethinking your CTA, this is something that can be easily done and may lead to more conversions. The idea they gave is instead of having the standard "schedule an appointment", have something like schedule your "pain assessment" for spine/pain groups or "Verify your insurance".
Adding Educational Videos- 6
Adding educational videos is a great idea but can be expensive for you to do on your own. They advertise their services here to create these videos but there are actually some free alternatives where you host educational videos already created for your specialty. Here is a directory of 25 free resources for educational videos.
---
(26-28) Build Out Your Practice & Physician Listings
The three items listed here are: expanding your Google My Business listing, creating physician listings on Google and creating more practice and physician reviews.
Expand Your Google My Business Listing – 8
We've already covered Google My Business and they reiterate that your profile should have more than just your phone number and address. Publish pictures and keep your content updated and accurate.
Google Business & Provider Listing- 9
The second item is something worth highlighting. Per Google's publishing standards, you can create a listing for each of the providers within your practice in addition to the standard business listing. More is more when it comes to content and Google so make sure and do this.
More Practice & Physician Reviews- 7
By having unique provider profiles on Google(as mentioned above), you can request reviews for those specific providers. Remember, you don't want a blanketed approach to requesting reviews as you want to be sure you're not getting bombarded by negative reviews if you have those days when the wait times are longer than anticipated.
---
(29-32) Optimize Your Front Desk
I love the title of this section as I agree that your front desk is your greatest weapon that is often turned against you. Topics covered are: re-engage past patients, re-engage cold leads, email nurturing sequences, use SMS to interact with prospects.
Nurture Past Patients- 6
Reaching out to past patients is always a good idea. Nurture those relationships through email, SMS and phone outreach. One thing that we like that isn't mentioned here is a simple birthday email or text if the patient has opted in to receive texts. This can all be automated and many practice management systems already have this integrated. If your platform doesn't have these tools, you can look at automated/integrated communication systems. Here are some options that could work for you.
Cold Prospects- 1
Reaching out to cold prospects would probably result in annoying potential patients. They recommend reaching out 12 times over a two week period and even suggest calling from block numbers to get through. I personally think this is taking it a little too far, you don't want to be put in the same boat as the security company calling incessantly.
Using SMS- 5
Using SMS is really helpful for medical practices due to the open rate of texts vs emails. This is mentioned in the article and is something that you should definitely consider adopting.
(33-43) Find Innovative Ways to Connect with Patients
Okay, on to the last category of opportunities to generate new patients. The ideas covered here are: get involved in Facebook groups, create your own Facebook group, host virtual informational events, broadcast live on social, amplify your physician referral outreach, custom list for paid advertising, physician NPI targeting, LinkedIn advertising, create a course, start a TikTok account and run TikTok adds for your practice.
Innovation at a Cost- 3
Wow, what a list. Nearly all of these are beyond the reach of most medical practices to implement without hiring a professional. These aren't bad ideas but what provider or office manager has the time to create/manage and engage in Facebook groups or broadcast live on social media. I just can't imagine seeing my urologist on TikTok and being inspired to call for a consultation.
Again, these are all listed as ideas but the intent (in my opinion), is to overwhelm you with ideas that bring you to click on their "Bonus Idea" which is to Hire An Expert to Develop a Patient Acquisition Strategy. I mean who wouldn't read this list and feel completely overwhelmed with opportunities. Even the physician referral outreach is about another plug to advertise.
Schedule YOUr Free Consultation
Article 2: 43 Ways to Attract New Patients To Your Practice in 2022- Runner Agency

Our Review
Overall, the article does highlight some good opportunities for medical practices to generate new patients but unfortunately, the majority of their "ideas" are difficult and expensive to implement. It felt as if the article was designed for marketing directors rather than providers or medical practice administrators.
Article 3: Top 25 Ways to Attract More Patients To Your Medical Practice – Practice Builders
1. Know your target audience:
This article starts off with some basics, essentially, they just want to remind you to know who your marketing efforts are directed towards. This is helpful but is not a strategy.
2. Train your team:
Again, not a strategy, more of a foundation. You want your staff to understand what it is you do.
3. Follow up with patients:
Yes, you should follow up with your existing patients. This goes back to customer service and maintaining a really good relationship with your current patients/customers.
4. Build a mobile-responsive website:
Websites are critical for any business but a website is nearly worthless if it doesn't perform well on mobile. The majority of your traffic will come from mobile devices so this is a helpful reminder.
5. Start a blog:
We are back to the blog. Really this comes down to having fresh content on your website. This is something every practice should aim for but we understand that it is often difficult to execute. For most practices, this isn't something easily managed in-house unless a provider can commit to publishing fresh articles. Once a month is a great place to start but twice a month is even better. Remember, it's easy to get discouraged when writing content as the return on your time investment happens over a long period of time.
6. Host contests:
They mention hosting contests and offering prizes which only really works for a self-pay/cosmetic practice. Doesn't work in any way for most medical/surgical practices. You're not going to give away a free colonoscopy. If you offer cosmetics or products, having an open house once a quarter and giving away some botox or something can helpful but please be careful and consult your liability insurance carrier to ensure this is acceptable.
7. Encourage online reviews:
Yes, reviews are critical. It's more than just encouraging them, you need to make it very easy and incentivize your staff to obtain them. Build a review system for your practice that automates the entire process.
8. Connect with the community:
I like this one and it's the first mention of engaging with your community(which is sad). For dermatology practices, I use to host skin checks at our local YMCA and did scheduled quarterly educational events at local country clubs. Doing these kind of things is not only a great way to attract new patients, it's also a great thing to do for free press.
9. Stay active on social media:
This is easier said than done which is why we recommend assigning this task to someone in the office. If you are on social media then you need to be on social media. If someone likes or shares your content, make sure to tell them thank you. It goes a long way in creating a following.
10. Monitor your online presence:
This is commonly referred to as reputation management. It is critical that you know what is being said about your practice both for quality improvement and online referrals. Positive reviews are essential if you want to convert visitors to your site into actual patients.
11. Embrace technological advances:
This boils down to utilizing things like patient portals and email to improve the communication process with your current patients. Offering online scheduling isn't mentioned but is one of the best things you can do for your business.
12. Be responsive:
If it takes you more than 1 business day to respond to voice messages or emails then you're not taking it seriously. The challenge is that providers often think that they can get away with poor customer service but that is no longer the case. Build systems for your practice that promote timely responses
13. Deliver quality service:
This goes without saying but I suppose it's a good reminder. It doesn't directly lead to new patients as it only really applies to patients already in your practice but quality service will lead to more referrals. You can be the best provider in the world but you have a front desk associate that hates their job, you're going to far worse than your neighbor that never graduated medical school
14. Be flexible:
Offering appointment times beyond your typical 9-5 slots can be helpful but you shouldn't feel the need to work every weekend to accommodate your patients.
15. Ask for references:
Yes, as previously mentioned, it's important that you request referrals from your current patients. At least let them know that it matters to you. Most patients think their provider as busy as they want to be
16. Become a referrer:
This is about fostering relationships that benefit both sides. Establish relationships with other area providers that have similar patient bases and make an effort to refer to them. Just consult your insurance broker to ensure you are not opening yourself up to lawsuits because of a bad experience with a referral partner. Remember that the anti-kickback/referral legislation is very strict on any type of compensation for referrals.
17. Send email reminders:
This comes back to utilizing technology to improve customer service. More than email reminders, you need to be sending out text message reminders about their appointment. This cuts down on no-shows and gives you time to fill that time slot if the patient needs to reschedule
18. Use email marketing:
This is a little dated in terms of its effectiveness. It's also hard to manage. It can still yield some results but not what it used to. You're better off directing your time to social media and working on email marketing if you have time to spare
19. Invest in local SEO:
It isn't mentioned but Google Business is the best local directory and local SEO out there. Just do this and you'll notice a significant improvement in traffic
20. Get listed in local online directories:
This is a little dated as it mentions the white pages. Getting listed in online directories is helpful but doesn't provide the traffic that it used to. Instead of the directories they mention, focus on sites like Healthgrades and Doximity and if maybe Yelp.
Here is a list of the most popular online directories for medical:
21. Generate media exposure:
This is where doing community outreach can be really effective. It's difficult to get (positive) media exposure without doing events for the community
22. Post real pictures of your staff:
Agree, personalize your website and business listings with pictures of your staff and office.
23. Re-engage past patients:
We use to call this tickler campaigns. You just want to keep your practice on the mind of your patients by staying engaged. This is especially important if your patients would benefit from recurring appointments such as well-checks or skin exams.
24. Take all cases seriously:
Customer service. Put yourself in the shoes of your patients and treat them the way you would want to be treated.
25. Brochures and business cards:
Again, another dated example. Don't waste your time building and printing a brochure. Invest that money in doing a video highlighting the services you offer.
Article 3: Top 25 Ways to Attract More Patients To Your Medical Practice – Practice Builders

Our Review
We gave this article 3 stars primarily because the article is very dated. It appears to have been written in 2018 and I would have expected some more current ideas rather than offering brochures and business cards as the final idea. There are definitely some good ideas and things you should be implementing but I just feel it could have been better.
Article 4: Five Ways To Attract New Patients To Your Medical Practice- Physician Practice
To start, this article is from 2014 and doesn't look to have been updated which makes me nervous. Let's see what it has to say and it's really worth being in the top 5.
1. Think about branding.
Finally, somebody that understands the foundation of success. Branding goes beyond how elegant your logo is, it's about your core values and mission. Who are you? What sets you apart from your competition? Is the behavior of your practice aligned with your Core Values? Before you invest a dime in advertising, you need to get this right.
2. Nurture your current patients.
This is another obvious but important recommendation. Take care of your patients and they will take care of you.
3. Embrace Social Media.
Social media can be a scary place for a medical practice as there is always this fear that someone is going to say something bad about you. They are saying it whether you are on social media or not, at least by engaging in social media, your voice can be heard too. Just don't feel the need to do it alone and always be careful with what you say/recommend.
4. Educate people.
Education is essential. You are selling yourself without doing any selling. You want to be regarded as an authority in your community when it comes to your specialty. Blogs, videos, your website and health fairs are all great ways to engage and educate your potential patients.
5. Become a caring presence in the community.
I love this and it echoes some previous recommendations about getting involved in your community. Volunteering and engaging in your community not only enhances your reputation in the community, it's also a way to obtain free press. When a hospital or community center has a health fair, you want to be one of the providers they call. Outreach can take many forms for a medical provider. Here are some examples: offer to host talks, seminars, and question-and-answer sessions at local schools, active seniors clubs, community centers, and charity events. Host medical support groups for people struggling with new diagnoses or chronic conditions.
Article 4: Five Ways To Attract New Patients To Your Medical Practice- Physician Practice

Our Review
We gave this article 5 stars primarily due to its promotion of timeless advice that can deliver results. This article was written in 2014 but is still relevant in 2022. I also really appreciate that they did not make the entire article a pitch to do business with them.
Article 5: 10 Ways to Attract New Patients and Keep The Ones You Have- Solutions Reach
Unfortunately, Solutions Reach doesn't provide you ten ways without you first providing a bunch of information.

Recent Start-Up & Credentialing Service Reviews