How can we help?
Physician Practice Specialists is a nationwide consulting firm specializing in credentialing, provider enrollment, insurance contract negotiations, practice start-up services and business development services for every type of medical practice and facility.  
Corporate Headquarters
Address:
4600 Touchton Rd. 
Bld 100, Ste 150
Jacksonville, FL 32246
Payments & Correspondence
Mail To:
P.O. Box 350096
Jacksonville, FL 32235
Recent Start-Up & Credentialing Service Reviews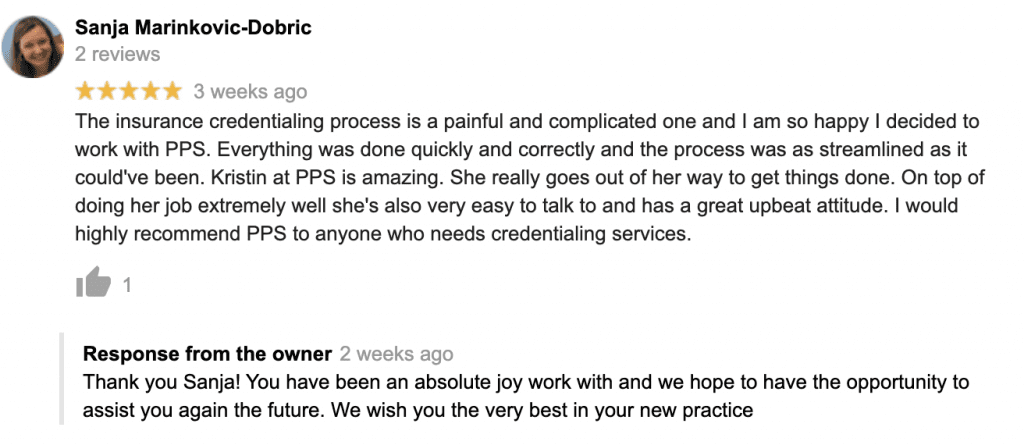 Effici

ent Credentialing & Enrollment Services
Save time and money by eliminating one of the most frustrating aspects of running or starting a healthcare organization. Our experienced staff can eliminate the frustration of dealing with the insurance credentialing and contracting process. Over the past twelve+ years, we have assembled a team of highly skilled individuals with experience in your state and particular specialty. Whether you're starting a cardiologist starting a new practice in Alaska, an orthopedic surgeon joining a hospital in Texas, a hospital in Colorado looking for an outsourced credentialing option, or a telemedicine practice in Ohio wanting to expand nationwide, you can trust that we have the experience and tools to help you achieve your goals.
Experienced Practice Start-Up Consultants
There has never been more to do when it comes to running or starting a medical organization. We understand this and our leadership team has actually been in your shoes. We've personally started and ran large medical practices so our services are designed around the pain points we've actually experienced. The complexities of today far outweigh what it took ten years ago to get a practice off the ground or run a thriving business. We know that there are plenty of things begging for your time, why waste your most precious commodity on something that we can do 5-10 times faster? Let us reduce your stress and improve your organization's performance.