If you've been in the medical field for any length of time, it's likely that you've already heard of CAQH.  However, hearing about it and actually understanding what it does and how it is used are two different things. 
There are still a lot of misconceptions about CAQH, what it is, who is supposed to use it and why it's important, we do our best to answer that and much more here.  
The Council for Affordable Quality Healthcare (CAQH) is a non-profit organization founded by health insurance companies to streamline healthcare administration. Its initiatives include CAQH CORE, CAQH Solutions, and CAQH Explorations, which aim to reduce unnecessary costs and complexity in the healthcare industry.
CAQH ProView is a tool used for credentialing and enrollment data exchange, while DirectAssure works to improve the accuracy of health plan directories. VeriFide standardizes the credentialing process, while SanctionsTrack and COB Smart automate sanctions monitoring and coordination of benefits, respectively. Finally, CAQH Explorations produces the annual CAQH Index, which tracks the industry's progress towards fully automating administrative transactions.  CAQH currently serves 2 million providers, over 1000 healthcare organizations, over 200 million members and 53 insurance companies utilizing CAQH for directory verification.
Sources:
CAQH has went through a number of iterations over the years but their core service remains the same.  They essentially function as a giant database that insurance companies and credentialing companies (such as ours) can pay to access.  CAQH does not submit applications to insurance companies or complete the credentialing process for you but they do play a vital role in this process.  Think about your license, malpractice policy (COI), DEA certificate or anything else that routinely expires without your intervention.  These documents are needed by the insurance companies and rather than providing each payer an updated license, you can upload this document into CAQH, attest to its accuracy and grant the payers permission to access the file. 
Not all plans have access to CAQH so it's important to not assume all payers will have your information once your profile is built.  Most local/regional health plans do not access it and none of the government payers use it.
CAQH IS NOT USED BY MEDICAID, TRICARE OR MEDICARE.
who should enroll with CAQH?
Who needs a CAQH Account- Any licensed medical provider that plans to see patients and bill insurance for their services.  In order to bill insurance, you need to first be credentialed and contracted which is what CAQH facilitates.  Provider types include physicians, nurse practitioners, physician assistants, therapists, dentists and counselors to name the most common.  
A couple examples of when a CAQH ProView account is not required:
1. If you are planning to strictly bill out-of-network
2. If are a cash based business such as a spa
3. You are a provider type that is not recognized by insurance companies
How does CAQH relate to provider credentialing?
CAQH is used for initial credentialing and for payer recredentialing.  This means that it's not a "set it and forget it" database, but one that requires maintenance on your part.  When you're first getting credentialed with health plans, some times payers will use your CAQH application/profile and export it into their system.  In order to accomplish this, the payer has to be authorized and will often request your CAQH id number over the phone, online or via email.
Once you're up and running which includes getting contracted or enrolled(CAQH is not involved in this process) with the insurance payer, the payers will likely use CAQH for recredentialing.  
DOES CAQH Credentialing cost money?
CAQH does not charge providers or users to access the system or create their provider profile for credentialing.  
CAQH generates revenue by charging the insurance companies such as United Healthcare, CIGNA, Aetna and BCBS for administering their document gathering and credentialing application process.  
How often does CAQH need to be updated?
In order to ensure compliance with the insurance payers CAQH is contracted with, you must re-attest your file every 120 days or once a quarter.  You often will not be required to make any changes but be prepared to upload any newly acquired documents such as a license or malpractice certificate if the the one on file with CAQH has expired.
Why you should register with caqh
Well, to start with, CAQH is required by many insurance companies so you really don't have much of a choice. There are exceptions to this as a handful of states have their own system which functions much like CAQH. However, even if your state has it's own system(which is rare), it still makes sense to register with CAQH as some of the national plans reluctantly use the state system but ultimately prefer CAQH.
In addition to being a requirement in most states, it improves efficiency by cutting down the number of redundant applications or requests for info that have to be handled.
Back To TOp
Finding out if you already have a CAQH ID is your first step in the registration process. It's pretty simple to determine and you only need a few pieces of information. You will enter:
Your full name (first, last)
Your NPI or Birthdate
3, Confirm whether you are a Medical or Dental provider
If you have a CAQH ID, you will receive a confirmation from their system. Once this is confirmed, you will need the contact details for whoever set the account up. Hopefully, this is your information and you can enter your email to reset your login. If someone else set up your profile, you will need to call CAQH: 1-888-599-1771 and they can reset your login for you.
If it is determined that you do not have a CAQH ID, follow these steps to complete the CAQH registration process.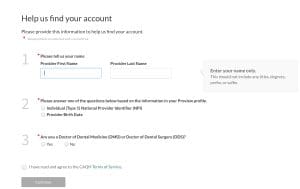 Back To TOp
How to register with caqh
Have all of your documents ready for uploading and your CV updated.  You'll need your license, DEA (and controlled substance cert if applicable), malpractice certificate, CV, W9, board certificate, hospital privileges(if applicable) and your diplomas.  There's no reason to start an application that you can't finish.
Make sure you have three professional references as these are required for your application.
If you're starting a practice, you'll also need information about your new entity including the following: legal entity info, tax id, address (including payment and correspondence if they are different), billing company info if outsourcing, credentialing contact, billing contact, hours of operation, phone/fax, GROUP NPI, etc.
Once you feel like you have everything ready for submission, visit: Proview CAQH Registration

Once you've made it through to the end of the application, you now need to grant the payers access to your information.  Before they can do this you MUST submit a signed ATTESTATION document provided by CAQH.  This is you verifying that you've submitted accurate information and tells the payers that your application is ready for review.
Once you sign & date the release/attestation, you want to make sure and remember to upload the document through their document
Be sure to save your CAQH ID #, userid and password.  Keep this in a safe place and remember to check it every ninety days to ensure nothing needs your attention.  CAQH is supposed to email you or whoever you put as the credentialing contact but you don't want to rely on their reminder
What is CAQH Credentialing?
CAQH credentialing describes the process of setting up your CAQH ProView account which is a rather tedious process.  CAQH doesn't actually credential you with insurance companies but insurance companies will use your CAQH ID number to complete the initial credentialing information.  
Rather than you needing to complete a new application for every payer, you can complete one on CAQH and then CAQH can provide your information to any payer you wish to participate with so long as it's a plan participating with CAQH.  Some plans such as Medicare, Medicare advantage plans, Medicaid and Tricare, do not use CAQH so don't assume that all payers will utilize your CAQH ProView account.
We hope this article helped.  We've been faithfully serving providers across the country for over 15 years and would love to help you.  We offer comprehensive practice start-up services, insurance credentialing services, insurance contract negotiations, and credentialing maintenance packages to fit every budget.
Back To TOp
Updated 04/15/2023