NPI Registration Overview
A National Provider Identifier (NPI) is a ten digit identification number, unique to each individual, that is issued to healthcare providers in the United States. Issuing these numbers helps a healthcare provider identify themselves in a standard way throughout their industry. In order to get an NPI, a healthcare provider must go through NPI Registration process accessible here.  You can think of the NPI as the SSN for individuals.
There are two types of NPI Registration, depending on the type of entity who is seeking the NPI. Type I NPI is utilized by individual healthcare providers, such as physicians, nurse practitioners, physician assistants, and dentists. Alternatively, Type II NPIs are for organizations such as facilities, hospitals, home health agencies, labs and DME suppliers.
Obtaining your NPI number is the first step you must complete as a healthcare practitioner to obtain your billing privileges.  Oftentimes, providers will be issued NPI numbers while still in training.  If you're not sure if you have one, the first step would be to contact NPPES or view the NPI registry here.  You cannot begin any credentialing without first obtaining an NPI number.
National Provider Identification (NPI)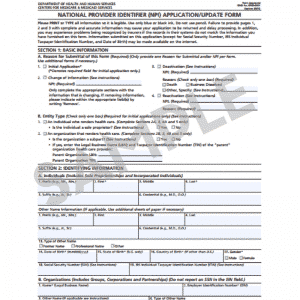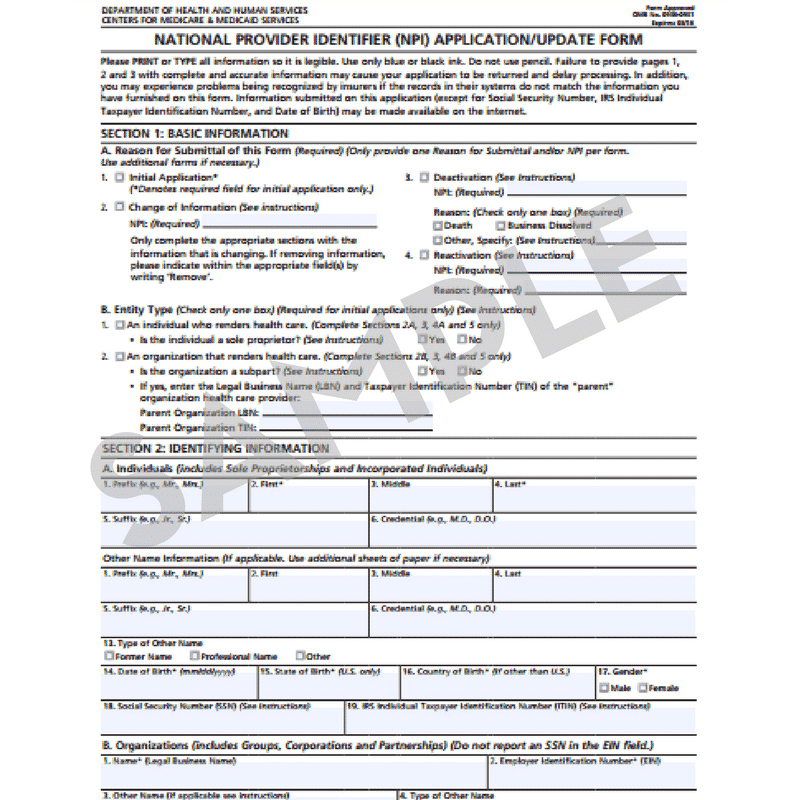 The Centers for Medicare and Medicaid Services (CMS) is in charge of issuing National Provider Identifiers. The National Plan and Provider Enumeration System (NPPES) is in charge of assigning NPIs to healthcare providers. Individuals or organizations must apply for their NPI through the NPPES.
After providing the NPIs to healthcare providers, the CMS publishes the parts of the NPI record that have public relevance, such as the provider's name, specialty (taxonomy) and practice address.
For example: if John Smith is a pediatrician in St. Louis, Missouri, who wants to have an NPI, he would need to register under NPI Type I Registration (because he is an individual) through the NPPES. After doing so, the NPPES would publish his information in their provider directory, listing him as Dr. John Smith, a pediatrician in St. Louis. His listing might look something like this:
NPI number
Code
Name (Legal Business Name)
Provider Business Mailing Address First Line
Address
Telephone Number
Fax Number
Provider Business Practice Location Address
Authorized Official Title or Position: Name: Credential:
Telephone Number:
Provider Enumeration Date
Last Update Date
As stated above, the NPI is ten digits in length. The first nine digits are identifying digits, and the last is a "check digit." The "check digit" assists in identifying invalid NPIs.
The NPI will replace any identifiers a healthcare provider currently uses in Health Insurance Portability and Accountability Act of 1996 (HIPAA) standard transactions that the health care provider conducts with Medicare and with other plans. (HIPAA is United States legislation that provides data privacy and security provisions for safeguarding medical information.) The NPI is part of HIPAA – part of an Administrative Simplification mandate.
All entities who meet the definition of "health care provider" (defined at 45 C.F.R. § 160.103), are eligible to receive NPIs.
NPI Registration Type I
As stated above, certain types of healthcare providers will register under NPI Registration Type I. These include physicians, dentists, nurses, pharmacists, chiropractors, physical therapists, and sole proprietors.
A sole proprietorship is considered Type I. A sole proprietorship may get only one NPI. They must report their social security numbers (not EINs). Virtually any healthcare provider could be a considered a sole proprietorship, including most of the examples listed in Type II.
NPI Registration Type II
Other types of healthcare providers will register under NPI Registration Type II. These include organizations that provide health care services or furnish supplies to patients; for example, hospitals, home health agencies, HMOs, home health organizations, medical equipment suppliers, and pharmacies.
Solely owned companies that are healthcare providers get an NPI under Type II. If the company is considered a "sub part", a health care provider will provide the "Legal Business Name" (LBN) and Taxpayer Identification Number (TIN) of the "parent organization" healthcare provider.
Application Help
There are three ways to get an NPI. A healthcare provider may:
(1) Complete the online application at the NPPES website: https://NPPES.cms.hhs.gov/NPPES/Welcome.do;
(2) Download the paper application form at: https://www.cms.gov/Regulations-and-Guidance/Administrative-Simplification/NationalProvIdentStand/ and mail it to the address on the form; or,
(3) Authorize an employer or other trusted organization to obtain an NPI for the healthcare provider through bulk enumeration, or Electronic File Interchange (EFI).
Learn About Our Physician Credentialing Services
Do you need a physician credentialing service? If you're interested in getting paid by insurance companies for the services you provide, it is essential that you first participate with them.  Contact us today if you're interested in becoming a participating provider with the insurance plans.