CAQH Credentialing Services
Outlined below are the steps you'll take to complete the CAQH credentialing process.  If you don't have the time or energy to deal with it, we can actually complete all of these steps for you and eliminate one more thing from your plate.  Not having a completed CAQH application will delay your enrollment with the insurance companies, preventing you from getting reimbursed for your services.  
The CAQH Credentialing Process:
Obtain your CAQH ID by contacting an insurance company or completing the online enrollment process with CAQH

Set up your secure username and password

Complete the online application and send in the required documentation

Complete and sign the attestation form which certifies the accuracy of your application

Grant insurance companies access to your online application

You are now ready to start the credentialing/contracting process with the insurers.
Do you need help with insurance credentialing?  Check out our insurance credentialing service to see if it's right for your organization.
Estimated Time for Completion: 5 Business Days
Our CAQH Credentialing Costs if Outsourced:
We charge $200.00 per CAQH application for new providers who do not have a CAQH ID and $150.00 if you already have a UserID and Password but just need it set up.  We will send you an invoice which you can pay by check, bank draft or credit card.
After making your payment, please complete the below provider application for expedited CAQH services.  You will need to complete our provider application (which can be downloaded below) as part of the process.  Once completed, please email Julia Chumbley at julia@drcred.com.  You may also email us your CV to get started, but we will still need the rest of the information once we begin work on your application.
1.  Complete our Provider expedited CAQH Application.
2.  Complete the form below and send to julia@drcred.com.  You can also email the file, fax it, or send it via snail mail.  We prefer the form emailed or faxed but you can mail it as well if that's preferred. Let us know if you have any problems with the process by emailing us below.
Fax: 877-406-4796
Email: julia@drcred.com
Physician Practice Specialists
ATTN: CAQH
PO Box 350096
Jacksonville, Florida 32235-0096
---
What is CAQH?
Otherwise known as, the Council for Affordable Quality Healthcare.  It is essentially an online portal that stores provider information in a secure, collaboration database.  This secured information is granted to health insurance companies during the credentialing process to make acquiring up-to-date provider information more efficient.  Instead of calling your office for your work history or a copy of your Medical License, they can go in and pull it directly from your file.  90% of the National Health Insurance Companies use CAQH and it is a prerequisite for the insurance enrollment process in most states.
The mission of CAQH is to improve health care access & quality for patients, and at the same time, reduce the paperwork and hassle for health care providers and their office staff.
As you know, the insurance credentialing process can be a painful one with all of the various credentialing applications and insurance carriers.  It's stressful and time consuming to go through each insurance companies unique credentialing process.  This is where having all of your information in a central database becomes so helpful to the various organizations you work with.
What is CAQH Attestation?
Attesting your CAQH profile is the process of signing off on your CAQH application at the end of the application process.  In addition to initially attesting, you have to go back in and attest every 90 days which keeps your application active and provides your contracted insurance carriers with up-to-date credentialing information.  Failure to attest your CAQH application will result in your credentialing/recredentialing applications with the payers being delayed or rejected.  It's critical that you keep up with CAQH and ensure your information is accurate.  Every time you receive a new malpractice policy, license, DEA certificate, W9 or address, it's critical that you get this information updated in CAQH.
How do you login to CAQH?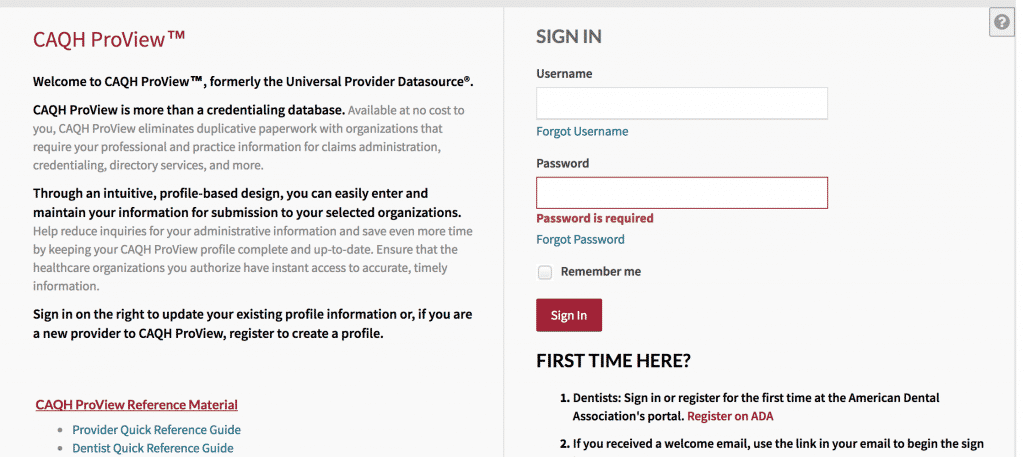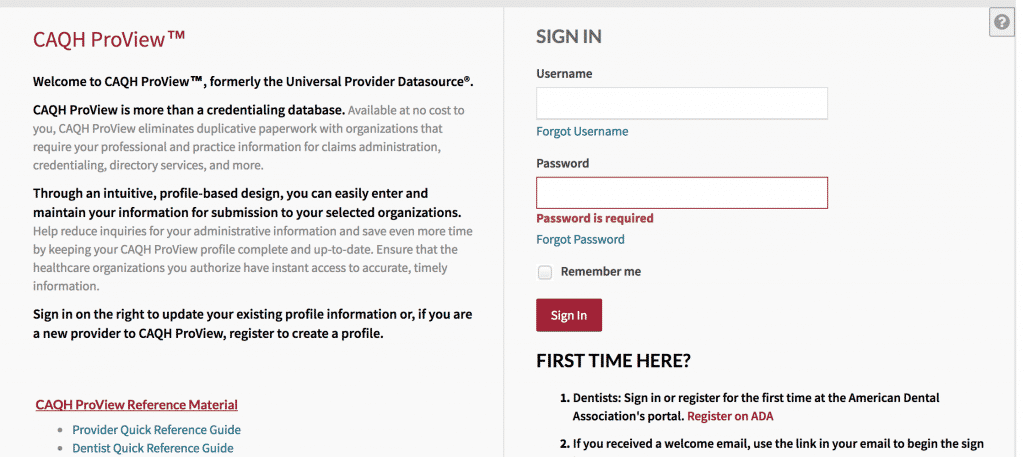 It's quite simple to login to CAQH, just visit their website:
https://proview.caqh.org/Login/
If you do not have a userid or do not know it or do not have the right password, you will need to contact them by calling 1-888-599-1771 or via email at providerhelp@proview.caqh.org.  You will need to provide them with your personal information and get your account information reset.  Often providers do not even know that they have a CAQH number as their employer will obtain it for them.  It is still your number and stays with you wherever you go just like your NPI number does.  If you are moving practices or starting your own practice, you will need to be sure to update CAQH with your new information.  You have numerous employers or practices within CAQH but it's important to enter the information correctly so it doesn't disrupt your billing privileges for your practices.
Why is CAQH important?
The objective is to only fill out your credentialing information one time through this universal application and eliminate the need to fill out applications for each individual insurance company.
Most insurance companies now require you to have a CAQH id prior to initiating the credentialing process. 
Although the CAQH does not charge for obtaining an ID but the application & process is very time-consuming and can be confusing to the average person.
Our team have completed 1000s of CAQH applications and is intimately familiar with the process.
Summary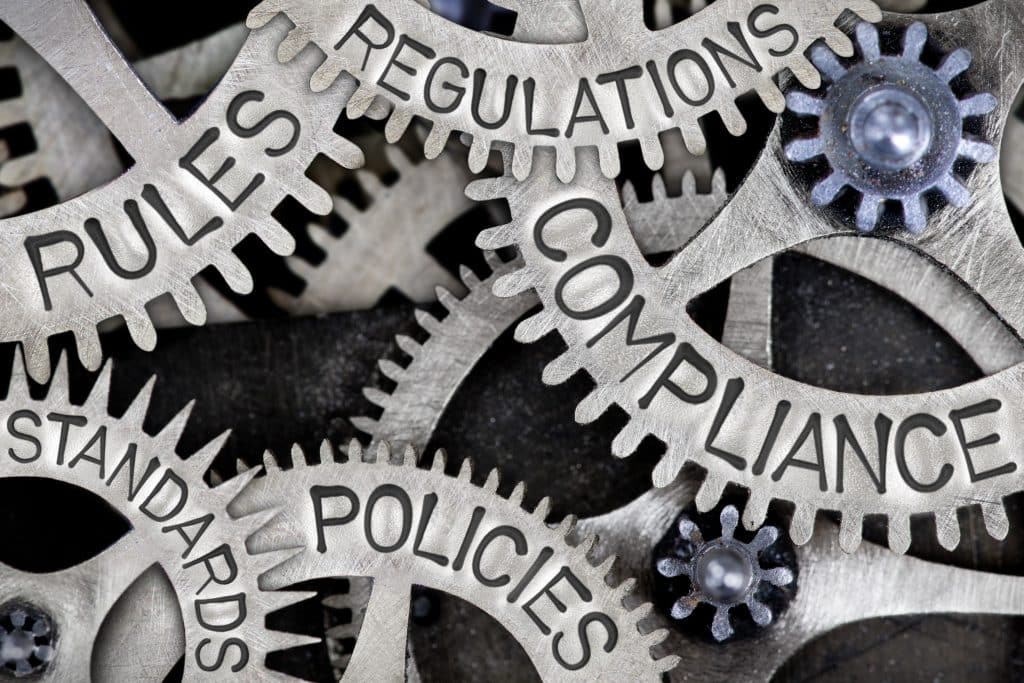 Article Name
What is CAQH and how do you complete CAQH credentialing?
Description
What is CAQH, what is CAQH credentialing and why do you need to complete CAQH credentialing? We will answer all of these questions and more here.
Author
Publisher Name
Physician Practice Specialists
Publisher Logo