Effici

ent Credentialing & Enrollment Services
Save time and money by eliminating one of the most frustrating aspects of running or starting a healthcare organization. Our experienced staff can eliminate the frustration of dealing with the insurance credentialing and contracting process. Over the past twelve+ years, we have assembled a team of highly skilled individuals with experience in your state and particular specialty. Whether you're starting a cardiologist starting a new practice in Alaska, an orthopedic surgeon joining a hospital in Texas, a hospital in Colorado looking for an outsourced credentialing option, or a telemedicine practice in Ohio wanting to expand nationwide, you can trust that we have the experience and tools to help you achieve your goals.
Experienced Practice Start-Up Consultants
There has never been more to do when it comes to running or starting a medical organization. We understand this and our leadership team has actually been in your shoes. We've personally started and ran large medical practices so our services are designed around the pain points we've actually experienced. The complexities of today far outweigh what it took ten years ago to get a practice off the ground or run a thriving business. We know that there are plenty of things begging for your time, why waste your most precious commodity on something that we can do 5-10 times faster? Let us reduce your stress and improve your organization's performance.
WHAT SETS OUR COMPANY APART
Experience that you can trust! We are not some fly-by-night company or someone just looking for something else to do after we leave our 9-5. We didn't start out as a biller or front desk clerk looking to make extra money, and we're not some company with a fancy website that is secretly based overseas with a US phone number. Our company was started and is still ran by executives that understand the complexities of running a thriving organization. All of our team members are full-time, ALL of them are based in the US and all of our account managers have at least 5 years of experience helping organizations like yours. We're A+ rated by the BBB and come highly recommended by some of the most prestigious healthcare organizations in the country
Credentialing Services Done Right
Don't you find it frustrating to spend time or money doing payer applications only to have it returned to you because it wasn't done right. How about the pain of getting a human on the phone at the insurance company? These are some our client's chief complaints and something we have aggressively addressed over the past ten+ years. With over 20,000 applications processed and 1000+ new practices started, we know how to get it right the first time.
Starting Successful Practices Since 2008
Whether you're starting a new practice, credentialing new providers, or considering outsourcing your credentialing department, we have the experience and tools to handle any challenge. Our team members are divided by region and to ensure your account manager has the resources and experience needed to get the job done right the first time. Our new practice start-up services have been used by over 1000 practices across the country. We pride ourselves on being an efficient, cost-effective and transparent solution to your credentialing and practice start-up needs.
Provider Enrollment & Consulting Packages
We love a good challenge so if you're banging your head against the wall trying to get things done dealing with insurance payers, please give us a call to see how we can help. We tailor each of our credentialing, consulting and start-up packages to fit the unique challenges of our clients. Whether you're a hospital in need of enrollment assistance, a practice negotiating your insurance contracts, a provider trying to enroll in Medicare or a physician starting a new medical practice, there is no problem too big or small for us. We service some of the most prestigious organizations in the country but one of our greatest joys comes from helping a new practice start-up and leave the gate equipped to succeed.
Recent Start-Up & Credentialing Service Reviews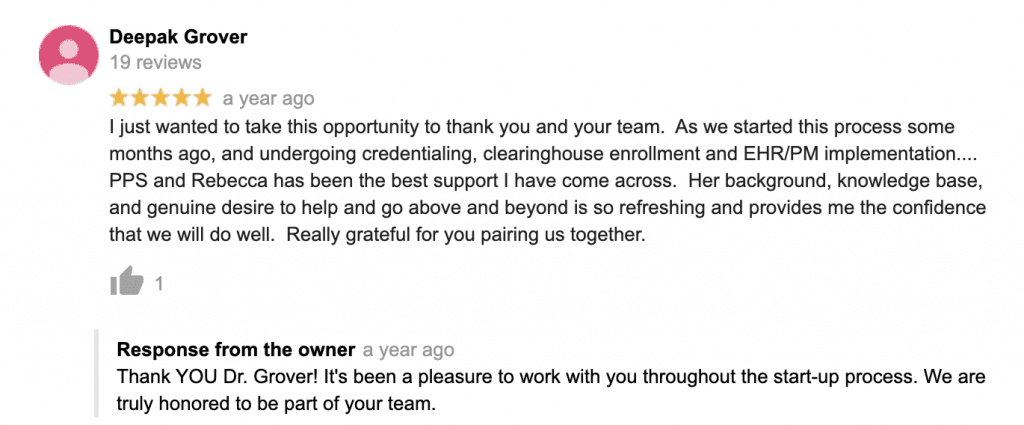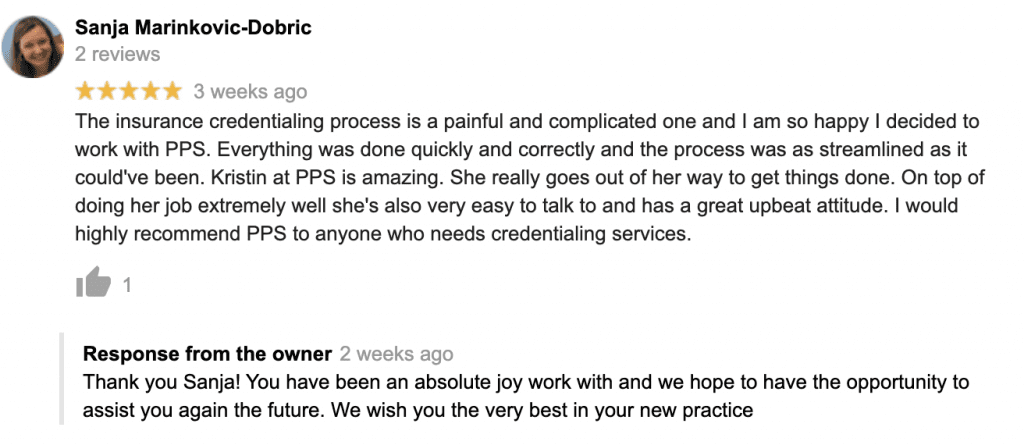 Some Of Our Popular Articles
---
A Company Like PPS Is Hard To Come By
We have been in the medical practice management business for close to 3 decades. We have seen many but none like PPS, specifically Kim E. A better professional I have not met. Her and the PPS team are on top of their profession. Don't waste your time looking elsewhere!
Excellent Service
I am very happy with PPS. Angela was so helpful and I had the pleasure working with Angela. She was quick to reply to all my email and always goes above and beyond to help me with every thing about credentialing process and gave me great advises about new practice. I highly recommend Angela of PPS.
Been a wonderful partner
We have been so pleased with our decision early 2020 to partner with PPS for our credentialing, licensing and contracting needs.
Excellent Service & Superior Results
Love working with the team at PPS
Credentialing Professionals
I had the pleasure of working with Lindsay and Nicole and couldn't be more pleased with the results