Understanding current and historical payment data from Medicare is essential to understanding how you are paid by both Medicare and the commercial payers. In addition to Medicare, most commercial insurance payers utilize the Medicare fee schedule to determine how they are going to compensate you for services. Every year Medicare releases a new fee schedule which carries with it reductions, increases, and CPT code revisions. It is important to review these updated fee schedules to have a solid understanding as to how these changes will impact your practice. Included below is a simple tutorial to help you in utilizing the Medicare search tool.
Step 1– Visit http://www.cms.gov/apps/physician-fee-schedule/ and click Start Search at the bottom of the page. This will take you to a page where you must agree to the license agreement.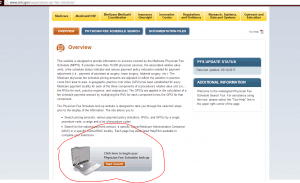 Step 2 – After clicking Start Search, you must then Accept the terms of use and agree to the Disclaimer from CMS.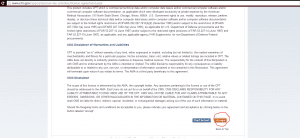 Step 3 – Upon clicking Accept, you will be redirected to the search criteria page where you will be presented with a number of options to refine your search. The first option is where you can select the Medicare fee schedule you wish to evaluate. It may be necessary when evaluating commercial insurance contracts to evaluate your top CPT codes based on the prior year Medicare fee schedule. Payers will use Medicare fee schedules that are 1-6 years old. It is important to understand the changes in reimbursement from year to year to be better equipped when evaluating and negotiating your payer agreements.
The next option is for you to select whether you are looking for Pricing Information, Payment Policy Indicators, RVUs, or the GPCI. For the purpose of this tutorial, we are only covering the Pricing Information option which is what you will use most often.
The third option is for you to select whether you are looking for a single code, list of codes or a range of codes. Most often, you will be reviewing multiple codes so it is best to select List of HCPCS codes.
The fourth option on the search criteria page covers whether you are looking for the National Payment Amount, a Specific Carrier or Medicare Administrators such as First Coast Service Options or Palmetto GBA, or a Specific Locality. It is recommended to use the Specific Locality option as this will give you the data applicable to your CMS region. Some states have 3-4 regions with varying payment amounts depending on the locale which is why knowing your locality is so important. This is another element you can utilize when negotiating your payer agreements. To determine your region, you can contact your Medicare administrator or visit their website where they have a map showing how the regions are split up in the state.
The final option is where you enter the CPT codes and select what modifiers you would like to view. We selected Locality 04 in the state of Florida which is Miami and decided to view all Modifiers which will show us the non-facility and facility rates for the technical fee, professional fee, and global rate when applicable.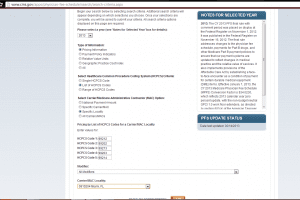 Step 4 – View your results and create a spreadsheet with the results. You will see that it has your Facility and Non Facility rate which is important to consider when analyzing your rates. In the office, the rates you will be paid are based on the Non Facility reimbursements. If you are seeing patients in a hospital, Ambulatory Surgical Center, Nursing Facility, etc., you will be paid the Facility rate rather than the Non Facility rate. Typically, the facility rate will be 30-50% less than the Non Facility rate. This is one reason for you to do as much as you can in the office and avoid doing routine procedures in a facility.
[printfriendly]