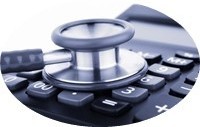 This is something that many practices have inquired about or been concerned about so we will lay out a few critical details to help you understand how, why, and when you can bill for a locum.
1. Is your event an acceptable case for a locum tenen?
This is the first and most critical question when it comes to staying compliant and getting paid. A locum or substitute physician can provide services for a member of your group (or the owner if solo practice) in the following situations:
Locums Acceptable Events:
Primary physician is ill, on vacation, participating in CME, pregnancy, bereavement, etc.
Primary physician has left the practice and will not be returning
Unacceptable Events:
Hired new physician who is not credentialed or enrolled with insurance companies
2. How long can I bill under Locum Tenen physician?
You can bill for a period of 60 continuous days. If your primary physician will be out for longer than 60 days, it is best to hire someone either part time or full time and complete the necessary credentialing process. The continuous period continues whether locum is actually seeing patients or not. It starts the first day he/she provides services and continues until the primary physician returns to provide services.
3. Can locum tenen perform surgery?
Yes. (If the only services rendered by locum physician are provided as post operative care under a global period, these need not be identified as being provided by a substitute physician.)
4. How do I submit claims for locum tenens physician?
You submit claims the same way you would for your primary physician except you add a Q6 modifier in box 24d after the procedure code. You may need to check with your billing program provider to ensure that this area of the 1500 is populating correctly. In box 24j, under rendering provider, you need to keep your primary physician listed.
5. Do I keep records from locum tenens physician in the same place?
You can store the records the same way you would for your primary physician but you should keep a list of patients with DOS that were seen by the substitute physician.
6. How should I pay the locum tenen / substitute physician?
You must pay your locum tenen's physician on a per diem or similar fee-for-time basis (Hourly). You cannot pay a locum a salary or have a revenue based payment model (i.e. productivity incentive).
7. When to bill using the Q5 modifier for reciprocal billing?
This is used for reciprocal billing under the same EIN. It is used when a physician covers for another physician within the same group. Modifier Q5 is entered after the procedure code in 24d. Both providers must be enrolled in Medicare. Here is an example of when this would be used:
"Dr. Smith provides coverage for Dr. James while Dr. James is out of the office for whatever reason (illness, vacation, etc.). The covering physician, Dr. Smith, must be a permanent part of the existing practice and Tax Identification number. He may not be hired from the outside, operate under a different tax ID number, or bill for services provided under a 'group practice' tax ID number."
I hope this information helped you when considering how and when to bill using the Q6 Locum modifier and Q5 Reciprocal Billing modifier.
Stay current with the changes in healthcare by subscribing to our newsletter.  Be sure to leave a comment if you have any questions or concerns.
Related posts